JOB SHADOWING
Program Description
Job Shadowing involves short-term student visits in a workplace, during which time students "shadow,"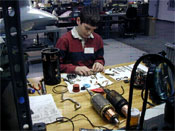 observe, and ask questions of individual workers. Classroom exercises conducted before and after the job shadow help students connect their experience to their course work, related skills requirements, and future educational and career options.
Why Is it Important?
The goal is for the student to align their personal interests with the employer in order to apply what they are learning in school, discern what skills and training may be necessary to pursue that career, and learn what a particular work environment is like.
Who Does it Benefit?
Students gain answers for questions such as: "Why do I have to learn this?" and, "Would I want to make this job a career?" It also gives a view into all aspects involved in a job and students can observe not only job characteristics and responsibilities, but also what each profession requires on a day-to-day basis. Shadowing also lets students learn first-hand what it takes to make it in their fields of interest from the people who know best – working professionals.
Educators gain the attention of students by demonstrating the tangible applications of classroom lessons, and helps craft lesson plans around students' career interests.
Employers help prepare the future workforce and show students various career opportunities in different industries. Additionally, this activity demonstrates tangible commitment to supporting and improving the community while creating a feeling of personal satisfaction that comes from mentoring a young person.
For More Information
Please email Glenn Patterson, Student Outreach Specialist at [email protected] or call (802) 540-0952.
Helpful Links & Resources
National Ground Hog Job Shadow Day
LINKING LEARNING TO LIFE 52 Institute Road, Burlington, VT 05401 Ph: 802 951-8845 | Fax: 802 951-8851